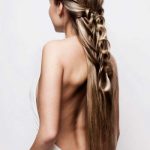 Hair extensions have been around for some time, but these days it's hard to tell the salon additions from the real thing. This is wonderful news for those considering adding a little flair or length to their locks. Here are the top 10 reasons why hair extensions are a great idea for anyone!
1. We're not all born with commercial worthy tresses, and sometimes no matter what you do with them; they fall short of your ideal. Hair extensions can be a wonderful lift to flat or lifeless hair and make it far more visually appealing.
2. If you prefer to change things up frequently rather than wearing the same hair month after month, what better way to create a change than a quick fix like hair extensions? You could go from long, dark hair to a fun short bob and back again in quick succession.
3. Has your hair been through the wringer? We all love to try new things and sometimes this means our hair has been bleached, dyed, highlighted, straightened or permed to within an inch of its life. If your hair is looking a tad fried, hair extensions can help hide the damage until you can restore it to health.
4. Is your scalp showing up more often that you'd like? Thinning hair or hair loss is an irreversible fact of life, but that doesn't mean that you have to accept less than you'd like. Hide thinning or balding heads with hair extensions that match your current colour and texture and nobody will be the wiser.
5. I can't be the only one to have experienced a terrible haircut. It's sure to happen to you at least once, and if you're stuck growing the mess out, hair extensions can be your best friend.
6. Running short on time? If you're constantly fighting for bathroom time or just can't seem to drag your butt out of bed to get yourself ready, getting hair extensions can mean a few extra moments of snooze without the frantic juggling act to get out the door. They're virtually maintenance free and you'll be confidently heading out to work or school in minutes flat.
7. If you long for incredible volume, this is your way to full bodied tresses that nobody will recognize as anything but natural.
8. Want long hair without the wait? Bingo! If you're tired of growing out your mane and can't wait years to toss that super length ponytail, try some extensions for a quick fix.
9. Hair extensions allow you to try something a little on the funky side without a full commitment. They come in a variety of textures, lengths, and colours, so walk on the wild side without fear.
10. For special occasions (how many brides opt for hair extensions to create gorgeous locks on their wedding day?) hair extensions are hard to beat. Easy to style, they're a wonderful way to add a degree of sex appeal to your big day or evening out.