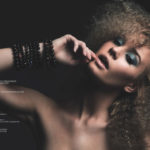 It's that time of the year again, when the weather makes its slow transition from the rainy, blossoming days of spring to the sunny, buzzing days of summer. Are you thinking of changing things up a bit this season regarding your hair colour? Great, because this time of the year is perfect for going with a new look that perfectly reflects the seasons. Here are the top 10 hair colours for spring and summer.
10. Denim Blue- denim is all over the fashion scene these days in the form of not only jeans but summer shorts as well. So why not have your hair colour go along with your summery denim clothing? This light pastel blue hair hue could be just up your alley to complete your summer look.
9. Iridescent Gray and Purple- this look will make you look like you've stepped right out of a fairy tale with its swirls of gray and purple that pay homage to the silver trend by taking it to a whole new level. Also called the "unicorn" look, it's the perfect way to add some magic to your hair this season.
8. Honey Blonde- if you're looking to go blonde but add a warm cozy touch to it, look no further than honey blonde. This popular look simply goes with summer in so many ways with its soft, late-afternoon-sun-kissed look.
7. Defined Highlights- by mixing in some defined highlights into your hair this season, you can add a real sense of dimension. Warm colours mixed with neutrals and using a lot of reflective colours is the way to go.
6. Mermaid- mermaid hair is an excellent way to add a splash of colour to your long, luscious locks this season. Either give the base of your hair a rich, dark look with bursts of colour, or play with rich colours weaved in throughout the length of your hair to get that true mermaid look.
5. Coral- if you really want your hair to burst with colour this season, dye it coral. Not quite orange and not quite red, coral will give your hair that fiery look that ought to glow in the summer sun.
4. Ice- to cool things off, try going with an icy silver or white this season. Ice blonde is the perfect way to contrast the blazing sun and help everyone that gazes upon your hair to cool down and chill.
3. Bronde- blonde and brunette all in one! Bronde hair is gaining popularity and is the perfect way to make a real impression with your hair this season. Bronde will give you a colour reminiscent of tree bark and sunshine all in one, making it a perfect summer colour.
2. Tie-dye- perfect for the girl that want's a little bit of everything at once, using ash blonde hair as a base, throw in rainbow highlights to get that authentic tie-dye look that let's everyone know you're ready to have fun.
1. Blonde with Dark Roots- for the ultimate summer look, nothing quite beats the classic California girl chic look of blonde hair with dark roots. This look goes with beach days, outdoor music festivals, and countless other fun summer activities all at once.