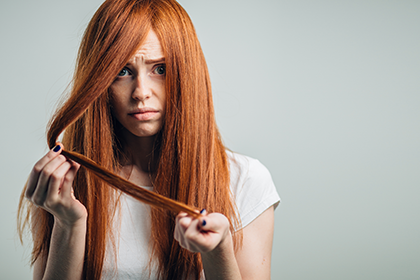 At Taz Hair Company we offer a vast array of products because we want to help you achieve your hair goals. One of the revolutionary product lines we offer is L'oréal's Serioxyl line. The Serioxyl line is designed specifically for those who have thin hair and want to add some va-va-voom to their limp locks. Serioxyl actually helps hair appear thicker by improving the look of a hair fibre density. 83% of women say that their hair was visibly densified,
81% of women felt that their hair was thicker after product use, and 77% of women felt that their hair had added volume. To start the path to these amazing results the first step is to get a professional diagnosis at Taz Hair Company, where we will look at your unique hair and decide if the Serioxyl hair treatment is right for you. If you will benefit from the treatment the first step is an in-salon shampoo treatment. The Serioxyl Scalp Deep Cleansing Treatment will be administered by your stylist and is used to purify both the scalp and hair. It is an incredibly gentle treatment and is the first stage of your journey to thicker and fuller hair.
The next step in this revolutionary formula comes in two kits that specialize in natural and coloured hair. Serioxyl Kit 1 is for untreated natural hair, while Serioxyl Kit 2 is for hair that has been dyed or treated in some other way. Women who use either of these two treatments saw incredible results. These kits are daily routines that are used at home, rather than at the hair salon. Each kit contains one of each: shampoo, conditioner, and mousse. Wash and condition the way that you would wash and condition with any other shampoo and conditioner to start. Then, to add volume to your hair with the mousse, make four partings in your towel-dried hair and use a walnut sized amount of product on each section – distributing the product evenly along the hair parting before combing hair to distribute evenly.
There are three other products that are part of the Serioxyl line that will get you the full and dense hair that you've been looking for. The first is the Serioxyl Denser Hair Spray. This product is a serum that comes in a pipette. You apply approximately 8 drops from the pipette to your hand and then apply this to your hair at the roots. The thinner your hair, the more drops that you use. The next product is the Serioxyl Denser Hair Gelée. This is a serum-gel that's active ingredients include stemoxydine and glycerin. Stemoxydine has been developed by L'oréal and stimulates hair regrowth for those who are suffering thinning hair, while glycerin has hydration properties to improve the overall look of hair. The last product is Serioxyl Thicker, which is a serum that is applied all over towel-dried hair that must be used daily to help hair achieve a thicker and fuller look.
The Serioxyl treatment kits and products are the perfect options for those with thin and fine hair looking to add some density and fullness to their look. At Taz Hair Company we are happy to help you start your journey to thicker hair, and will introduce you to the amazing Serioxyl product line.