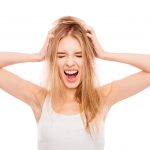 Quick Tips to Defrizz Your Hair
Frizzy hair can make you dizzy. It can look messy, it is tough to comb, and tougher to style when you are heading out for a special occasion. There are a few quick ways to deal with the situation: cover it up with a scarf, pretend it doesn't exist, or defrizz with these quick tips. First, you need to figure out where that frizz comes from.
Lack of moisture is the key reason behind frizzy hair. The other reason is humidity. The cuticle in your hair opens up when it needs water to absorb moisture from the air. Quench your hair's thirst to get rid of frizz. Curly, wavy, and dry hair are also prone to frizz. Bring back moisture for a smooth, sleek shine with these quick home remedies.
5 Natural Ways to Defrizz Hair
Slather Mashed Banana: A banana is a delicious multivitamin for your hair. It is full of vitamins, minerals and antioxidants that nourish your hair to keep it soft and smooth. Blend a ripe banana in olive oil and honey. Apply it from the roots to the ends of your hair. Admire yourself before the mirror for 30 minutes or so. Then rinse off. Follow this treatment once a week.
Massage Coconut Oil: Coconut oil is nature's beauty product for holistic health. It has antiviral, antifungal and antibacterial properties, helps you fight dandruff, and improves scalp health. Natural coconut oil is free of harmful chemicals. When you massage it into your scalp, your strands bounce with health, smoothness, and shine. Warm the coconut oil before massaging into your scalp. Leave it on for 30 minutes or longer. Shampoo and condition your hair until it shines.
Eggs and Honey: Don't turn up your nose at that! Eggs are excellent for nourishing hair. It is rich in proteins. Hair is composed of keratin proteins so eggs are perfect to feed your strands. Break an egg into a bowl. Add lemon juice and honey. Massage gently into your hair. Rinse well with shampoo and condition with cold water after 30 minutes or so.
If the smell of eggs leaves you gasping for air, ditch it for yogurt. Add honey to half cup plain, unsweetened yogurt and massage into your scalp. Refrain from answering the doorbell for about 30 minutes. Don't forget to shampoo and condition your hair.
Avocado: Like bananas, avocados are high in nutrients and full of flavour. Avocado is excellent for preventing split ends in dry, frizzy hair. Mash a ripe one with olive oil. Apply on your tresses and shampoo off after an hour or so. Do this twice a week for a silky sheen. Aloe vera is another option that works as well as avocado.
Mayonnaise or Shea Butter: Mayonnaise is as delicious for your hair as it is for your palate. It contains oils, the amino acids L-cysteine, nourishing egg yolks and vinegar that work together to create magic in your hair. Mix a few tablespoons of mayonnaise with one tablespoon apple cider or lemon juice and one tablespoon of olive or coconut oil. Cover your hair with a warm towel or shower cap. Hide in your room for an hour, then rinse off with cold water. This does well to get rid of dandruff and defrizz dry hair.
If you don't like the idea of emptying your mayonnaise jar on your hair, use shea butter instead. Melt it with argan oil, massage it in, rinse off after an hour.
Avoid blow drying your hair with hot air if your hair is frizz-prone. Use cold air instead. If you are looking to style it after defrizzing, book an appointment with Taz Hair Co. in Yorkville, London or Kingsway. We can help you bring out the true beauty of your hair.