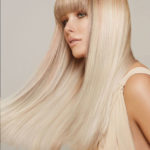 E-Z Hair & Great Lengths
Pricing upon consultation.
E-Z Hair: It's all in the name
In todays' fashion driven society, women seek out the red carpet for style inspirations. Hair extensions have been popular for many years for the fortunate ones that could afford them; Paris Hilton, Jessica Simpson and many celebrities alike have graced the cover of magazines wearing Cold Fusion hair extensions to achieve various hairstyles within a short period of time. Supply and demand has made them more reasonably priced and accessible for every woman.
Cold Fusion; definitely the simplest and most reliable strand hair extensions I have ever used. This is a link system of copper/aluminum found exclusively to E-Z Hair. The silicon on the inside of each link provides protection to the clients' hair as well as a non-slip LONGER lasting set that with the proper care, can last up to six months.
E-Z Hair can be styled with any hot tool with no fear of melting bonds as well as zero negative effects of chlorine/ocean water exposure. With over 35 shades to choose from as well as straight to perfect spiral texture, this Remy Hair System can be installed at any given location.
Frequently a client doesn't want to commit to a long-term colour, having said that, this is a must-have service!
Great Lengths Hair Extensions
Whether you are looking to add volume, thickness, length or splashes of colour, if you can imagine it, you can have it with Great Lengths hair extensions. Great Lengths uses the smallest possible attachment sites making them undetectable by sight or touch. The hair is 100% virgin quality hair that has never been chemically treated, with a wide range of available colours. Because it is human hair, it can also be custom coloured to perfectly blend in with you original hair, you can wash, blowdry and style the hair while maintaining the finest quality of each strand. Because each set of great lengths is customized to one's personal needs, pricing is based upon consultation.
For more information and to book a consultation please contact our Kingsway location to book your appointment with one of our Great Lengths certified artists. (www.greatlengthscanada.com)