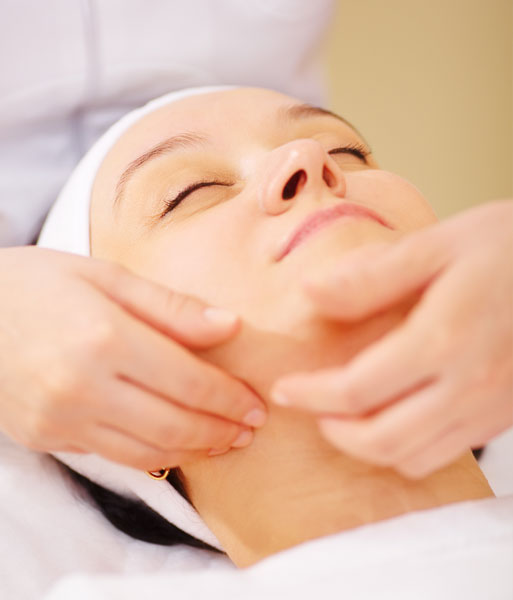 Anti-Aging Luminous C & Sea Treatment $110
This powerfully effective treatment reduces fine lines, strengthens the skin's elasticity and counteracts photo-aging to restore a youthful appearance. 1.25 hours
Anti-Aging Lifting Shock Treatment $98
An intensive treatment ideal for dry, sun-damaged, prematurely aging skin that requires nourishment, regeneration and energizing. The elastin and pure collagen is delivered to the deeper layers of the epidermis to slow down slackening of the skin. Treatment for beauty and intense relaxation. 1.25 hours
Oxygenating Facial $95
This facial increases the skin cells' oxygen intake using specialized products. Recommended for very sensitive skin. 1.25 hours
Eye Contour Treatment $40
An intensive eye treatment to reduce superficial lines and to strengthen and firm up the eyelids. This treatment increases blood circulation around the eyes and may be used in conjunction with a facial treatment.
Hand & Foot Treatments
Manicure $24
French Manicure $27
Pedicure $45
French Pedicure $48
Polish Change $12
Paraffin Wax $15
*Upgrade any of these services by adding an extra 15 minute hand or foot massage while your nails dry for $15.
Full Leg with Bikini Line $55
Lower Leg $25
Upper Leg with Bikini Line $35
Bikini Line $25
Brazilian Bikini Wax $35 & Up
Full Arm $35
Lower Arm $20
Underarm $15
Upper Lip $7
Chin Wax $5
Sides of Face $10
Brow Waxing or Shaping $14
Back / Chest $20 & Up
Ear / Nose Wax $14
Tints & Lashes