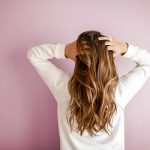 Colouring your hair can be a hassle, which is why you want it to stay looking its best for as long as possible. Here are ten tips to help you maintain your coloured hair.
Don't Shampoo Right Away
Your hair's cuticles are open when being colour. These open cuticles are what allows the colour to penetrate your hair. Washing it too soon after colouring, while your cuticles are still open, will lead to your colour rapidly washing down the drain. Wait at least 72 hours after colouring your hair before washing with shampoo.
Sulphate-Free Products
Shampoos and conditioners that contain sodium laureth sulphate will lather up with use. These foamy sulphates are what strips your hair of its natural oils, moisture, and that beautiful colour. Using sulphate-free products will keep your hair colour from fading and drying out.
Cold Water is a Must
Hot water has a habit of opening up your hair cuticles, which allows your hair colour to wash out during shampooing and conditioning. To prevent your colour from leeching, try using lukewarm water to shampoo and condition before rinsing out with cold water. The warm water will help to cleanse while the cold will seal in the moisture from your conditioner.
Don't Wash Your Hair as Often
Daily washing not only strips your hair of the natural oils that keep your scalp moisturized and looking fresh, but it also washes away hair dye with each session. Resist washing your hair no more than two to three times a week in order to keep your colour looking its best.
Use Dry Shampoo
On days when you're not washing your hair but have oil and grease building up, try using a colour safe dry shampoo. It will refresh your hair without fear of washing out the colour. Dry shampoos that are colour tinted are also available to help spice up your colour.
Try Leave-in Products
Hair that's been coloured and treated with harsh chemicals will definitely be lacking moisture at some point. Leave-in treatments were created to help keep your hair smooth, hydrated and protected by the sun, as UV rays tend to fade hair colour.
Protect Against Heat
On top of dehydrating your hair and damaging it, using heat without a protectant spray will strip away any colour present. A few sprits of heat protectant spray will reduce moisture loss and help to maintain your hair colour.
Prepare for Colouring
Using a clarifying shampoo the day before your colour treatment will strip your hair of its natural oils, removing any blockages that could prevent colour from penetrating your roots. On another note, dead ends can't hold onto colour, so trim them before your next treatment or every six to eight weeks so your colour stays fresh.
Avoid Water With Chlorine
As a bleaching agent, chlorine is sure to strip any colour from your hair. Blondes can look forward to having theirs turn greenish, while darker hair is likely to grow dull and dry out. If you're really looking forward to going swimming this summer, try applying conditioner before jumping into the pool. It should create a barrier between your hair and the harsh chemical.
Looking for a well-established hair salon? If you're located in Kingsway, Yorkville or London, Ontario, think about giving Taz Hair a try. Our open-minded and highly trained artists are here to help if you're looking for an excellent cut and styling, colour treatment, hair extensions, esthetics or makeup, and bridal services. Call any one of our locations to book an appointment.