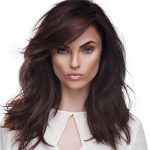 Colouring your hair can be one of the easiest ways to make a big change and a huge impact without altering the length or style. Having a new colour can be just the refreshing change that you need; often this works best with a change of seasons; we lighten in the spring and darken in the fall. If you're not committed to a big change, your stylist can also add highlights or lowlights just to try them out, or you could opt for a temporary colour that will wash out over time before taking the "permanent plunge". Before you decide to change your hair colour, here are a few key questions to ask your stylist to avoid surprise or disappointment.
1. Does this colour look good on me?
This is probably the number one question that people will ask when considering a hair colour change, and it's an important one. You may have a friend or family member that's made a change without asking whether or not the colour really works with his or her skin tone, and sometimes this can result in a complete disaster. Ask your stylist whether or not your colour choice is going to work well for you, and if not, ask if he or she can suggest another colour that is similar or will give you the effect you're after.
2. What type of maintenance will this colour require?
Depending on the colour, how much it differs from your natural (or current) hair colour, and how vibrant it is, it may need more regular maintenance than you had bargained for. Avoid any surprises by ensuring that you know exactly how often you'll need touch ups, what special maintenance tricks you'll have to adhere to, and how long the colour will normally last.
3. Can I get this colour right away?
Some colours require repeated visits to your stylist to achieve. One of the most common colour misconceptions is that a platinum blonde can be achieved with one colour treatment. This is most definitely not the case! Sometimes a drastic change in colour can take months with repeated lightening or darkening.
4. Will the chemicals in the product cause irritation?
Not everyone will have a reaction to the chemicals used in the salon, so your stylist may not know for sure whether or not you'll suffer from scalp irritation. If you've suffered from irritation previously or if you have certain allergies, your stylist can let you know whether the product of choice contains something that might trigger another negative experience. You might also want to ask whether or not there is another product option to get the colour that you want.
5. What can I do to make the colour last longer?
Certain choices you make and actions you take will have an effect on the colour and how long it will last, so find out what you can do to make the most of your new hair. Ascertain if your stylist has any shampoo or styling products that will help keep your colour looking its best.